Published: 04 May 2021

04 May 2021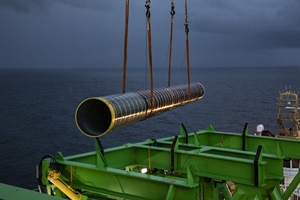 CSBC-DEME Wind Engineering (CDWE) (Taiwan) has signed an Exclusivity Capacity Agreement with the Taiwanese fabricator CSBC, for the provision of pin piles for the 300MW Hai Long 2A offshore wind farm.
The Hai Long Offshore Wind Project partners (Northland Power, Yushan Energy and Mitsui & Co) have recently been granted approval of their Industrial Relevant Plan (IRP), which is fully in line with the government's local content requirements. The Hai Long Offshore Wind Project signed Taiwan's first large-scale Balance of Plant, Preferred Supplier Agreement with CDWE in October 2019. The Hai Long wind farm is approximately 50 kilometres from the Taiwanese coastline and the depth of the foundations will be a maximum of 55 metres. The foundations used by Hai Long are being specifically tailored to the characteristics of Taiwan's seabed and wind farm conditions. CDWE was established at the end of 2018 by CSBC and DEME Offshore.