Published: 10 August 2020

10 August 2020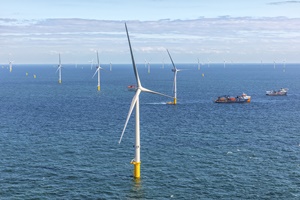 Blauwwind has achieved first power on the Borssele III/IV offshore wind farm in the Dutch North Sea. The first turbine is now generating power and delivering renewable electricity into the Dutch grid.
36 of the 77 V174-9.5 MW MHI Vestas turbines are now installed and after undergoing further initial tests in the coming weeks, it is expected that one additional turbine will become operational per day. Completion of the offshore windfarm is currently expected in October 2020. Total expected power generation is 3,000GWh per year. The Borssele III/IV offshore wind project, which is situated 22 km off the coast of Zeeland, Netherlands, is being developed by the Blauwwind consortium, consisting of Partners Group, Shell, Eneco, Diamond Generating Europe and Van Oord.