Published: 31 May 2017

31 May 2017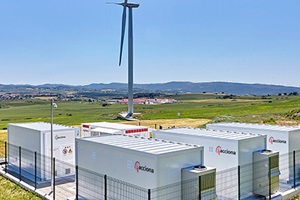 Acciona Energía has started up a hybrid plant for storing electricity in batteries that is part of a grid-connected wind farm in Spain. The company has also developed simulation software that will be used in the plant.
Located in Barasoain (Navarra, northern Spain), the plant is equipped with a storage system consisting of two batteries located in separate containers: one fast-response 1MW/0.39 MWh power battery that can maintain 1MW of power for 20 minutes, and another slower-response battery with greater autonomy of 0.7 MW/0.7 MWh that can maintain 0.7MW for 1 hour. Both batteries are of Li-ion Samsung SDI technology and are connected to a 3MW rated capacity AW116/3000 wind turbine from Acciona Windpower (Nordex Group) . The batteries will store energy produced by the wind turbine when required. The turbine is one of five that make up the Barasoain Experimental Wind Farm, which the company has operated since 2013. The installation also has three other units: one for medium voltage cells and analyzers, another for inverters/chargers and a transformer (installed by Ingeteam, a company participating in the project), and a third for the control and monitoring equipment. The project has received funding from the European Regional Development Fund (ERDF), which manages the Spanish Centre for Industrial Development (CDTI).