Published: 08 March 2022

08 March 2022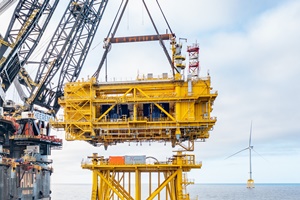 Seagreen offshore wind farm, currently under construction off the Angus coast, has announced the successful installation of the 4,800 tonnes offshore platform topside. The topside was lifted from a heavy transport vessel and on to the previously installed 6-legged jacket foundation.
The completed structure sits in water depths of around 55m. Specialist cable installation and support vessels will continue to install the onsite inter-array network of cables to the turbines and to the offshore platform. Another vessel is currently installing the export cable from the landfall point at Carnoustie. The topside forms the backbone of the offshore wind farm. At 40 metres long, 45 metres wide and 15 metres high, the heavyweight superstructure's role is to collect and manage 1,075MW of power generated by the 114 Vestas wind turbines before transferring it ashore via around 60km of offshore subsea cabling. The Seagreen Wind Farm is scheduled to enter operation in early 2023.