Published: 01 March 2023

01 March 2023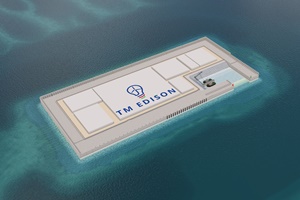 The Belgian consortium TM EDISON (Jan De Nul and Deme) has won the tender from Elia for the construction of the artificial Princess Elisabeth Island. The Princess Elisabeth Island combines both direct current (HVDC) and alternating current (HVAC).
The island's high-voltage infrastructure will bundle the wind farm export cables of the Princess Elisabeth Zone together, while also serving as a hub for future interconnectors with Great Britain (Nautilus) and Denmark (TritonLink). The energy island will be located about 45 kilometres off the Belgian coast. The area set aside for the installation of the electrical infrastructure will be approximately 6 hectares in size.
The artificial island will be located within the Princess Elisabeth wind zone. A small harbour and helicopter platform will also be provided in order to allow maintenance crews to visit the island. The energy island has received funding from the European Covid Recovery Fund. The Belgian government decided to award the island a grant of approximately €100 million. The construction of the island will start in early 2024 and continue until August 2026.