Published: 27 March 2023

27 March 2023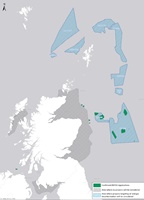 Crown Estate Scotland has announced the results of the world's first leasing round designed to enable offshore wind energy to directly supply offshore oil and gas platforms. INTOG (Innovation and Targeted Oil & Gas) leasing aims to attract investment in innovative offshore wind projects in Scottish waters, as well as help decarbonise North Sea operations.  
The INTOG process allowed developers to apply for seabed rights to develop offshore wind projects that either reduce emissions from the North Sea oil and gas sector - by supplying renewable electricity directly to oil and gas infrastructure (TOG) - or consist of small-scale (IN) innovative projects of 100MW or less. 
The successful applicants have now been offered initial agreements – called Exclusivity Agreements – that, if they accept the offers and proceed to sign them, enable them to start offshore wind development work while the Marine Scotland's planning process for the INTOG Sectoral Marine Plan (INTOG SMP) is completed.
If a successful proposed project is in the final INTOG SMP, an option agreement will be offered. Projects will then go through planning, consenting, and financing stages. Responsibility for these next steps does not sit with Crown Estate Scotland, and projects will only progress to a full seabed lease once all these various planning stages have been completed. Option agreements are expected to be offered in 2024.
The details of the 13 applicants who have been offered Exclusivity Agreements can be found below.
| | | | |
| --- | --- | --- | --- |
| Lead applicant | Option Fees | IN or TOG | Total capacity (MW) |
| Bluefloat Energy/Renantis Partnership | £5,401,360 | IN | 99.45 |
| Bluefloat Energy/Renantis Partnership | £7,107,900 | IN | 99.45 |
| Simply Blue Energy | £9,972,000 | IN | 100 |
| BP Alternative Energy Investments | £1,670,917 | IN | 50 |
| ESB Asset Development UK | £3,137,000 | IN | 100 |
| Flotation Energy | £54,893,102 | TOG | 560 |
| Flotation Energy | £40,987,979 | TOG | 1350 |
| Cerulean Winds | £67,200,066 | TOG | 1008 |
| Cerulean Winds | £35,200,098 | TOG | 1008 |
| Cerulean Winds | £35,200,098 | TOG | 1008 |
| TotalEnergies | £200,000 | TOG | 3 |
| Harbour Energy | £405,000 | TOG | 15 |
| Harbour Energy | £405,000 | TOG | 15 |
| Total (rounded) | £261,780,521 | | |