Published: 28 March 2017

28 March 2017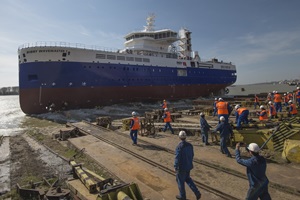 The Bibby WaveMaster 1, the first of Damen's purpose-built Service Operations Vessels (SOV) with Walk-to-Work (W2W) capability, has been launched at Damen Shipyards Galati in Romania. When completed, Bibby Marine Services Limited, part of Bibby Line Group, will deploy the vessel to support forthcoming offshore wind construction and O&M projects in the North Sea.
Bibby WaveMaster 1 is built specifically for the transfer and accommodation of offshore personnel and aims to maximise working time, technician comfort and safety. Equipped with DYNPOS (AUTR) DP2, the 90 metres LOA vessel has a motion compensated access system (Walk-to-Work). A helideck, daughter craft and CTV landings (with refueling) complement the vessel's versatility. The vessel is capable of providing turbine access up to 3.1 metre Hs. The Damen SOV is able to remain at sea for periods of up to one month at a time. The design includes a diesel-electric main propulsion system, which powers twin azimuth thrusters.