Published: 10 May 2019

10 May 2019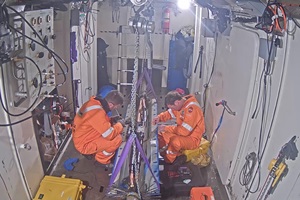 At Rosslare Europort in Co. Wexford, Ireland, Irish Sea Contractors (ISC) has launched their patented, subsea power cable repair solution calles Aersub. The subsea power cable repair solution is specifically designed to enable the repair of faulty power cables in-situ subsea on the seabed.
According to the company it will lower the cost of repairing offshore wind subsea power cables by up to 50%, while cutting repair times in half. It provides an alternative means for cable repairs than traditional lift-to-repair solutions. Aersub had been deployed on a demonstration cable repair in the water at Rosslare Europort.