Published: 24 February 2022

24 February 2022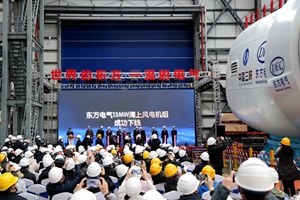 Dongfang Electric Corporation (DEC) has manufactured its first 13 MW offshore wind turbine. The offshore wind turbine is based on DEC's 10MW offshore direct driving platform.
The turbine features 103-metre blades, and has a rotor sweep area of 34,967 square metres. The 13MW turbine is suitable for deployment in the Class 1 wind regions. The turbine will be able to withstand typhoons with wind speeds of 77 m/s.