Published: 22 December 2016

22 December 2016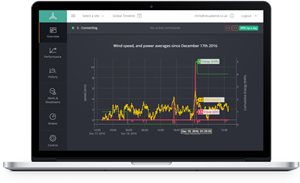 Visualwind has teamed up with DC21 and Boston Renewables to launch a bespoke monitoring and control solution for Endurance E-series turbines. The service, known as WindSync for Endurance (WiSE) enables turbine owners and operators to monitor and control their turbines remotely and from site.
WiSE is immediately available to customers of DC21 and Boston Renewables, and will also be available to the wider market in early 2017. WindSync for Endurance runs independently of existing infrastructure. Users connect via a web browser to the WindSync cloud service which communicates to WindSync hardware installed in the turbine cabinet via a high availability VPN. Control access is also available from the base of the turbine. The platform includes all the key E-series functions such as unlock/locking of turbines, braking analysis, manual mode operation and clearing of alarms, but the user interface also brings big-data analysis tools from the world of big wind, notably, automated downtime analysis, performance and health analysis, and advanced power curve analysis.