Published: 28 December 2016

28 December 2016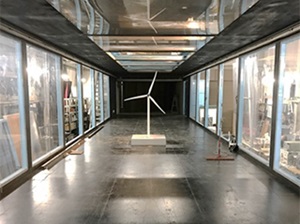 Toshiba Corporation has announced that a proposal by the company on modelling wake flows of wind turbines, toward developing a method for quantitative evaluation, was selected for support under the Japanese Ministry of Education, Culture, Sports, Science and Technology's "Experimental and Computational Fluid Dynamics Platform" strategic research project.
The measurement methodology will be based on wind-tunnel experiments Toshiba will conduct on a 1/88 scale model wind turbine in the Boundary Layer Wind Tunnel at Kyushu University's Research Institute for Applied Mechanics. Data on turbulence flows will undergo numeric analysis on the Earth Simulator, a super computer at Yokohama Institute for Earth Sciences. The evaluation will also integrate results from large-scale measurements of wind flows experienced by Toshiba wind turbines installed at Shin-Nagashima Kuronoseto Wind Power Station, Kagoshima Prefecture, Japan, where mountainous terrain causes turbulence. The company will use the results of the investigation to develop highly efficient wind power generation systems that advance the economic and business potential of wind power generation.
Related Articles
Toshiba Corporation has announced that it will enter the wind power generation business by acquiring Sigma Power Janex Co., Ltd., a subsidiary of Kyushu-based Janex Co., Ltd. that operates wind farms ...Windtech International - Windtech International is the worldwide information magazine for the wind energy industry. It provides the ideal forum for the promotion and explanation of new products, techniques and applications. This trusted and well-respected source of information is read regularly by an increasing readership

Toshiba Corp, Hitachi Zosen Corp , JFE Steel Corp and three other companies plan to invest 120 billion yen (US$ 1.53 billion) over a decade to set up offshore wind turbines, the Nikkei reported. Pot ...Windtech International - Windtech International is the worldwide information magazine for the wind energy industry. It provides the ideal forum for the promotion and explanation of new products, techniques and applications. This trusted and well-respected source of information is read regularly by an increasing readership

Toshiba Corporation has announced that it has signed a memorandum of understanding with Korea's Unison Co on entering the wind power business through a strategic business alliance for the co-developme ...Windtech International - Windtech International is the worldwide information magazine for the wind energy industry. It provides the ideal forum for the promotion and explanation of new products, techniques and applications. This trusted and well-respected source of information is read regularly by an increasing readership