Published: 01 April 2019

01 April 2019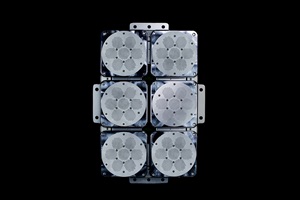 A trial of NRG Systems' Bat Deterrent System at the Pilot Hill Wind Project in Illinois yielded an overall reduction in bat fatalities of 67%. Testing of NRG's ultrasonic acoustic Bat Deterrent System was conducted at Pilot Hill between August and October of 2018.
Fifteen out of the facility's 103 turbines were outfitted with Bat Deterrent Systems. A 5.0 m/second cut-in speed curtailment was simultaneously applied at the deterrent-equipped turbines.
There are several bat species present at Pilot Hill, including multiple migratory tree species. The testing revealed a significant reduction of 72% with Silver-haired Bats, 71% with Hoary Bats, and 94% with Big Brown Bats. Eastern Red Bats proved harder to deter, with 58% reduction in mortality for the two treatments together.
The Pilot Hill trial was preceded by a two-year study at the Los Vientos Wind Energy Facility in Texas, which saw an overall reduction in bat fatalities of 54%. NRG's Bat Deterrent System is currently only available in North America. The company plans to hold trials of the technology in Europe in 2019.