Published: 05 December 2018

05 December 2018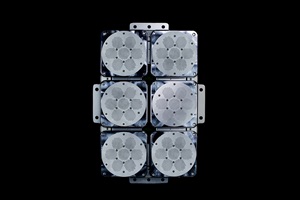 NRG Systems has announced that a trial of its ultrasonic acoustic Bat Deterrent System reduced overall bat fatalities at the Los Vientos Wind Energy Facility in Starr County, Texas, by 54%.
The Bat Deterrent System is based on "jamming" the echolocation capabilities of bats, which they rely on for orienting, foraging, and communication, while causing no harm to wildlife that encounter the treated airspace. The test was led by researchers from Texas State University in partnership with Bat Conservation International (BCI), and involved installing NRG's Bat Deterrent Systems on 16 of the facility's 255 turbines. While 2018 marks three years of testing for NRG's Bat Deterrent System, research around using ultrasonic acoustic deterrents to reduce bat fatalities at wind turbines has been underway for over a decade. This was led by The Bats and Wind Energy Cooperative (BWEC), an organization that BCI helped launch and continues to coordinate. NRG's Bat Deterrent System will be commercially available in 2019.