Published: 25 January 2017

25 January 2017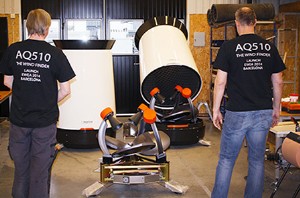 Although not yet officially released IEC 61400‐12‐1 rev 2 is already being widely applied by many wind farm owners and operators. It is also a key part of the FGW TR6 wind power development guidelines which now permit remote sensing technologies to be used as stand-alone sources of wind data for projects in Germany.
The draft standard states that, at two different sites, a minimum of nine months of data from at least two different systems, should be compared over a variety of seasonal conditions to assess the sensitivity of the equipment to various environmental conditions. A total of 26 months of data from four AQ510 SoDARs, and co-located IEC compliant met masts ranging from 100m to 180 metres, have now been evaluated. In the same way that IEC 61400‐12‐1 rev 1 set the standard for the IEC compliant met towers so widely used in all applications today, rev 2 is likely to play a major role in increasing the acceptability of remote sensing as a primary data source for wind farm development purposes globally.
Related Articles
Ammonit Measurement GmbH and AQSystem have signed a global distribution agreement for the sodar products from AQSystem including the new AQ510 windfinder.   This new partnership fits well in AQSystems ...Windtech International - Windtech International is the worldwide information magazine for the wind energy industry. It provides the ideal forum for the promotion and explanation of new products, techniques and applications. This trusted and well-respected source of information is read regularly by an increasing readership

ZephIR Lidar has released remote sensing test results against an IEC compliant met mast spanning almost 80 trials over a two year period. All ZephIR 300's were validated against an IEC compliant 91m m ...Windtech International - Windtech International is the worldwide information magazine for the wind energy industry. It provides the ideal forum for the promotion and explanation of new products, techniques and applications. This trusted and well-respected source of information is read regularly by an increasing readership

Remtech has introduced its new PA4 Sodar which fills a gap between their PA0 Sodar (700 meters average altitude range) and their PA5 Sodar (3,000 meters average altitude range). With 2,000 meters av ...Windtech International - Windtech International is the worldwide information magazine for the wind energy industry. It provides the ideal forum for the promotion and explanation of new products, techniques and applications. This trusted and well-respected source of information is read regularly by an increasing readership