Published: 24 March 2016

24 March 2016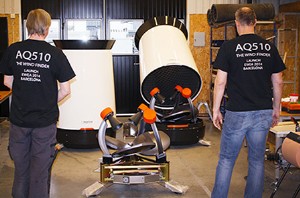 As part of an ongoing study to assess the effects of forestry on wind conditions Uppsala University have now analysed the first 3 months of wind data from an AQ510 SoDAR and compared it to data collected by a nearby fully IEC compliant 180 metre met mast. The distance between the met tower and the AQ510 is greater than 200 metres.
Atmospheric stability was examined using the Metek Sonic anemometers over a wide range of conditions. Analysis of the data shows that neither atmospheric stability nor turbulence intensity has had any effect upon the very good agreement between the AQ510 and the cup anemometers. During the study no filtering of data was carried out for precipitation or for tower shadow effects, yet still the deviation is within +/-2%. During the 3 month Swedish winter period over which a wide range of weather and wind conditions were experienced, data availability ranged from 98% at 40 metres to 84% at 180 metres.
Related Articles
Ammonit Measurement GmbH and AQSystem have signed a global distribution agreement for the sodar products from AQSystem including the new AQ510 windfinder.   This new partnership fits well in AQSystems ...Windtech International - Windtech International is the worldwide information magazine for the wind energy industry. It provides the ideal forum for the promotion and explanation of new products, techniques and applications. This trusted and well-respected source of information is read regularly by an increasing readership

ZephIR Lidar has released remote sensing test results against an IEC compliant met mast spanning almost 80 trials over a two year period. All ZephIR 300's were validated against an IEC compliant 91m m ...Windtech International - Windtech International is the worldwide information magazine for the wind energy industry. It provides the ideal forum for the promotion and explanation of new products, techniques and applications. This trusted and well-respected source of information is read regularly by an increasing readership

Remtech has introduced its new PA4 Sodar which fills a gap between their PA0 Sodar (700 meters average altitude range) and their PA5 Sodar (3,000 meters average altitude range). With 2,000 meters av ...Windtech International - Windtech International is the worldwide information magazine for the wind energy industry. It provides the ideal forum for the promotion and explanation of new products, techniques and applications. This trusted and well-respected source of information is read regularly by an increasing readership