Published: 01 July 2021

01 July 2021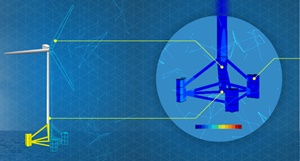 Akselos has been commissioned by Shell and RWE to use its structural simulation software, Integra, to model the TetraSpar floating foundation demonstrator, which will be installed offshore Norway later this year.
The TetraSpar project aims to reduce the Levelised Cost of Energy (LCoE) for floating wind farms.
The 'Digital TetraSpar' will interface with sensors on the structure and act as a detailed, holistic structural model of the demonstrator. With Akselos' software the behaviour of the entire structure can be analysed in near real-time. This will provide insights to drive further improvements in the design and operation of the concept.
The TetraSpar floating wind foundation was developed by Stiesdal Offshore Technology, a founded by Henrik Stiesdal a Danish inventor and former Chief Technology Officer at Siemens Wind Power. The TetraSpar Demo project is developed by Stiesdal Offshore Technology, TEPCO Renewable Power, Shell, and RWE. The project will be installed 13km from the coast at the Marine Energy Test Centre, near Stavanger, southeast Norway.