Published: 02 December 2021

02 December 2021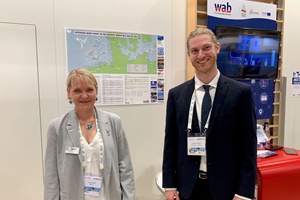 WAB e.V. has joined the Offshore Coalition for Energy and Nature (OCEaN). OCEaN is an alliance of the wind industry with non-governmental organisations and transmission system operators with the aim of cooperating on the sustainable use of offshore wind energy while ensuring harmony with nature conservation and healthy marine ecosystems.
Bremerhaven-based WAB is the nationwide contact partner for the offshore wind industry in Germany and a business network for onshore wind energy in the north-west region. The association fosters the production of "green" hydrogen from wind energy. It comprises some 250 smaller and larger businesses as well as institutes from all sectors of the wind industry, the maritime industry as well as research.
The Offshore Coalition for Energy and Nature (OCEaN) is organised into working groups. The German OCEaN working group most recently published "Six recommendations for a nature-friendly development of offshore wind energy". These include:
In marine spatial designation, priority must be given to climate and nature conservation, and compensation must be ensured.
To mitigate spatial conflicts, a stakeholder dialogue on co-usage should be initiated.
Expand and consistently use transparent and effective European cooperation.
Optimisation of the regulatory framework to achieve climate neutrality targets and enable innovation.
Provide and use publicly accessible data as a starting point for planning.
Use concrete measures to accelerate and improve processes.