Published: 04 April 2022

04 April 2022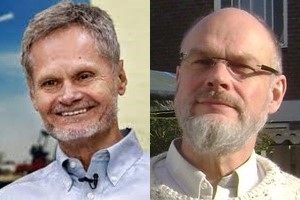 The WWEA Small Wind Section has appointed Mike Bergey and Frits Ogg as co-chairs during its latest meeting in March. The members of the section have welcomed having two co-chairs from different continents and backgrounds to reinforce the work of the WWEA on topics such as small & medium wind, distributed wind, rural electrification, and hybrid systems.
A co-founder of Bergey Windpower Co. and its' president & CEO, Mike Bergey is a mechanical engineer and an internationally recognized expert in the fields of small wind systems and distributed generation. Bergey Windpower is global manufacturer of small wind turbines, with installations in all 50 U.S. States and over 120 countries. Mike has twice served as president of the American Wind Energy Association (AWEA) and served on the AWEA Board of Directors for 27 years. He is currently in his sixth term as president of the Distributed Wind Energy Association (DWEA).
Born in Nijmegen, Netherlands, in 1954, Frits Ogg is Co-founder of the Dutch Association for Sustainable Energy (ODE) in 1978. Although today retired, he is still working as a guest lecturer and investigating journalist, with a focus on emergency energy supply, small biogas, photovoltaics, small wind and community wind. Frits owns a degree in education (electrical), industrial marketing and industrial engineering with a European accreditation. Frits was formerly editor in chief of the Dutch magazine WindNieuws and was active as a member of the board in several associations and organisations on environmental and technical issues.