Published: 29 March 2021

29 March 2021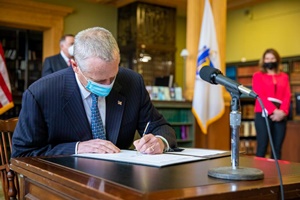 Massachusetts Governor Charlie Baker has signed climate change legislation that codifies into law the Baker-Polito Administration's commitment to achieve Net Zero emissions in 2050.
The new law, Senate Bill 9 - An Act Creating a Next Generation Roadmap for Massachusetts Climate Policy, establishes new interim goals for emissions reductions, increases protections for Environmental Justice communities across Massachusetts, authorises the Administration to implement a new, voluntary energy efficient building code for municipalities. The legislation also authorises the Commonwealth to procure an additional 2,400MW of offshore wind power, bringing the state's total required authorization to 4,000 MW by 2027. Earlier this year, the Department of Energy Resources (DOER) filed the third offshore wind power Request for Proposals (RFP) with the Department of Public Utilities for review and approval. The RFP solicits project proposals of up to 1,600 MW of offshore wind power.