Published: 01 June 2011

01 June 2011
Korea's Jeju Smart Grid Test-bed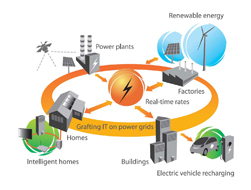 Korea is pursuing sustainable development while dealing with climate change. It is also moving towards a low carbon economy and a society capable of recovering from climate change. As part of these efforts, Korea has launched a Smart Grid national project to achieve green growth in a transparent, comprehensive, effective and efficient way. With these plans in mind, Korea has started building a Smart Grid Test-bed on Jeju Island to prove its determination to make the low-carbon, green-growth strategy succeed.
By Mr Kim Jea-Seob, Chief Executive Officer of Korea Smart Grid Institute, South Korea

Want to read full articles? Sign up free of charge and login and read the full text of published articles on our website.