Published: 01 June 2011

01 June 2011
A Significant Leap Forward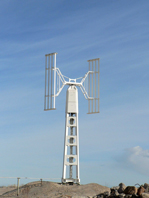 Wind power engineering has tended to be a fairly conservative area of industry. No one expects any significant new design ideas that radically improve the feasibility and performance characteristics of horizontal axis wind turbines (HAWTs). Most current changes in the design and construction of rotor blades are brought about by new technologies and materials with higher strength characteristics. This ensures higher reliability and extends their service life. Such things as the amount of energy that can be extracted from the wind flow as it moves through a defined swept area have remained more or less unchanged for many years. However, the Latvian company SIA Latekols has found a way to substantially improve wind turbine performance.
By Grigory Fedotov, SIA Latekols, Latvia

Want to read full articles? Sign up free of charge and login and read the full text of published articles on our website.