Published: 01 October 2009

01 October 2009
New Welding and Inspection Methods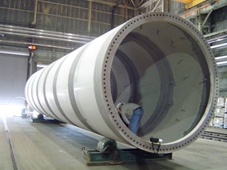 Conical cylinder wind turbine towers are classic examples of welding-dependent structures, where specialised shapes are desired at a large scale. Opportunities exist to increase production efficiency in welding by changing the submerged arc welding (SAW) procedures or by switching to another process, with tandem GMAW and laser hybrid as recommended alternatives. Tandem GMAW and laser hybrid would have advantages particularly when reorientation of parts is an important aspect of the fabrication effort. Phased-array ultrasonic inspection, which is already available for use in similar industries, can greatly increase the amount and quality of inspection information for gauging the importance of subsurface imperfections.
By William Mohr, Principal Engineer, EWI, USA .

Want to read full articles? Sign up free of charge and login and read the full text of published articles on our website.