Published: 01 October 2009

01 October 2009
Considerations When Choosing Bolt Tensioning Tools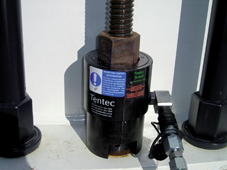 Bolt tensioning is vital to the integrity of wind turbines. As well as being extremely important for applying accurate bolt loads efficiently and safely, it is also a consideration for the builders and installers of the turbines as well as for the maintenance engineers who are required to carry out regular bolt load checks. This article will look at why accurate bolt tensioning is important, particularly for foundation bolting in the USA and Canada, and what aspects are significant when choosing the right equipment for the job.
By Roy Sheldon, Business Development Manager, Tentec Ltd, UK .

Want to read full articles? Sign up free of charge and login and read the full text of published articles on our website.