Published: 03 September 2009

03 September 2009
Keeping the World's Wind Developers Up to Date with the Newest Interconnection Standards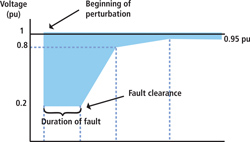 The remarkable growth of wind power generating capacity around the world has created a renewed focus on the fundamental role of interconnection standards for grid reliability. Since the power derived from wind farms is not inherently predictable or controllable – at least to the degree seen in 'fossil fuel' generation – precautions must be taken to protect the utility grid. This article describes the application of modern in-turbine dynamic reactive power solutions. Wind generators around the world have deployed these solutions, such as the D-VAR RT, to enable wind turbines to meet the grid reliability standards that now exist in many countries.
By Tony Siebert, Director of FACTS and D-VAR Business, AMSC Power Systems, Germany .

Want to read full articles? Sign up free of charge and login and read the full text of published articles on our website.