Published: 09 May 2017

09 May 2017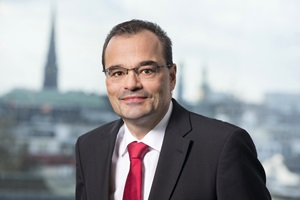 The Board of Directors of Siemens Gamesa Renewable Energy unanimously appointed Markus Tacke as the company's new Chief Executive Officer (CEO). The appointment takes effect immediately. Mr. Tacke succeeds Ignacio Martín, who in April announced to the Board his desire to step down once the merger had been completed and integration efforts were successfully underway.
Before the merger, Markus Tacke served for four years as CEO of Siemens Wind Power. From 2014 to 2016 he served as Chairman of the European Wind Energy Association (EWEA)/Wind Europe, the industry association for Europe's wind power businesses. He holds a PhD in Mechanical Engineering from Darmstadt University (Germany), and a Master's Degree in Combustion and Fluid Dynamics from Cornell University (New York, USA). Completing the senior management team, Michael Hannibal has been named as CEO of the company's Offshore business. For the past three years, Mr. Hannibal served as CEO of the Offshore business at Siemens Wind Power. He has more than ten years of experience in the wind power industry.