Published: 27 June 2022

27 June 2022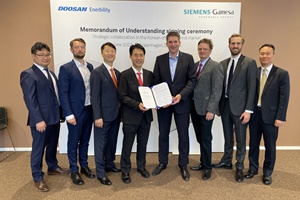 Siemens Gamesa and Doosan Enerbility have signed a non-binding Memorandum of Understanding (MOU) to investigate strategic cooperation within offshore wind power activities.
The MoU covers investigations of potential collaboration between the two companies on several Korea-focused fronts. They are related to collaboration on large-scale offshore wind turbines, sharing of major services including construction of new Korean production facilities, the supply of wind turbine parts, offshore wind turbine installation, and turbine maintenance, among others. The MoU will investigate potential products and services optimised for the domestic Korean offshore wind market. It will also explore a Korean domestic supply chain and related industries. Furthermore, it will study potential job creation and industrialisation in the Korean offshore wind power market.