Published: 31 July 2020

31 July 2020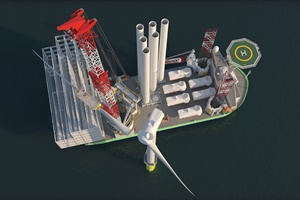 OHT has announced its entry into the offshore wind turbine generator (WTG) installation sector, having entered into a binding Heads of Agreement with China Merchants Heavy Industry (CMHI) in Jiangsu, China for the construction of two WTG installation vessels with options for a further two units, through its wholly owned subsidiary VIND Offshore Installation.
The vessels will be jack-ups of GustoMSC design, featuring a telescopic crane with maximum capacity of 2,500t and a maximum lifting height of approx. 165m. The units will be capable of efficiently installing in water depths up to 65m. As a future option, the vessels have been prepared for fuel cells powered by hydrogen to be installed. The first unit will be delivered in early 2023. The delivery structure for the second unit is flexible.