Published: 29 May 2023

29 May 2023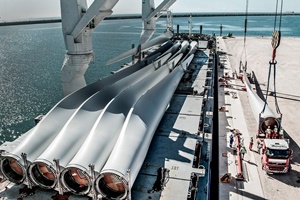 Norden has entered into an agreement to acquire the Thorco Projects business, providing access to new customers within the general cargo segment.
With the acquisition of the Thorco Projects business, NORDEN further grows its customer offering, as Thorco Projects operate within specialist general cargo segments such as break bulk, steel and wind energy related cargoes, where multiple cargo parcels from different customers typically are combined into single shipments on Multipurpose and Handysize ships. Thorco Projects is operating a chartered fleet of 30-40 vessels. The acquisition is subject to regulatory clearance. Closing is expected to occur in Q3 2023.
Related Articles
Eden Rose, the second of Tidal Transit's fleet of windfarm service vessels, was launched on 30 March 2012 by its Spanish boat builder, Mercurio Plastics. Like its sister Ginny Louise, it is a purpose ...Windtech International - Windtech International is the worldwide information magazine for the wind energy industry. It provides the ideal forum for the promotion and explanation of new products, techniques and applications. This trusted and well-respected source of information is read regularly by an increasing readership

The first of a possible fleet of up to ten purpose designed support vessels to transport personnel involved in the planning, development and construction of offshore wind farms in the Greater Wash and ...Windtech International - Windtech International is the worldwide information magazine for the wind energy industry. It provides the ideal forum for the promotion and explanation of new products, techniques and applications. This trusted and well-respected source of information is read regularly by an increasing readership