Published: 30 May 2023

30 May 2023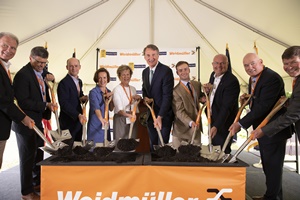 Weidmüller Inc., USA, headquartered in Richmond, VA, broke ground on a new engineering, production, and warehouse facility at its current Southlake location in Chesterfield County. The $16.4 million expansion will create more than 100 new jobs for the greater Richmond, Virginia area.
As part of its 'Made in America' commitment, Weidmüller will increase its engineering and production footprint in the U.S. by 24,000 square feet, allowing the company to engineer and manufacture products closer to the customer. The new building features solar panels generating 392,000 Kwh annually, high efficiency HVAC, recycled materials, and EV charging units (AC Smart).
Support for Weidmüller's job creation will be provided through the Virginia Talent Accelerator Program, a workforce initiative created by VEDP in collaboration with the Virginia Community College System and other higher education partners, with funding support from the Governor's administration and the Virginia General Assembly.