Published: 10 November 2017

10 November 2017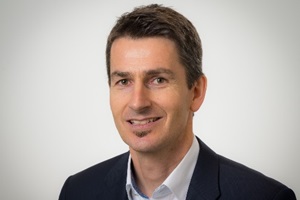 Moventas has announced the appointment of Martin Zingg as senior vice president of the global service business. Martin will lead Moventas' global service business and focus on raising awareness of their multi-brand service solutions.
Martin, who holds a M.Sc. Mechanical Engineering from the Swiss Federal Institute of Technology, has joined the team at Moventas from GE Power Services where he has held several senior positions globally in power generation services.
Related Articles
Moventas has announced new patent-pending up-tower repair capabilities for North American wind farms featuring GE turbines.

Moventas has entered the Brazilian wind O&M market by teaming up with industrial gearbox company Zanini Renk, who will become a Moventas authorized service part

Moventas has developed a special gearbox lubrication upgrade for customers operating WinWind made WWD3 turbines.   This summer, Moventas carries out a lubrication upgrade for ten turbines in the Ajos ...Windtech International - Windtech International is the worldwide information magazine for the wind energy industry. It provides the ideal forum for the promotion and explanation of new products, techniques and applications. This trusted and well-respected source of information is read regularly by an increasing readership

Moventas Australia in Somersby, NSW, has won new deals on Moventas' condition management system CMaS.   Moventas will install several CMaS systems on the Starfish Hill wind farm, with 1.5MW NEGMicon t ...Windtech International - Windtech International is the worldwide information magazine for the wind energy industry. It provides the ideal forum for the promotion and explanation of new products, techniques and applications. This trusted and well-respected source of information is read regularly by an increasing readership

Moventas is preparing to rebrand its industrial gear business, and to run the two core businesses more independently of each other than before, in order to better serve its customers in both segments. ...Windtech International - Windtech International is the worldwide information magazine for the wind energy industry. It provides the ideal forum for the promotion and explanation of new products, techniques and applications. This trusted and well-respected source of information is read regularly by an increasing readership

Moventas Group has acquired its Clyde Blowers owned sister company David Brown Gears System's wind gear business along with David Brown's UK-based production unit with test facilities, as well as a se ...Windtech International - Windtech International is the worldwide information magazine for the wind energy industry. It provides the ideal forum for the promotion and explanation of new products, techniques and applications. This trusted and well-respected source of information is read regularly by an increasing readership

Moventas has appointed new members in its global management team. M.Sc. (Econ.) Mikko Viitala has been appointed Moventas' Chief Financial Officer as well as member of the General Management Team and ...Windtech International - Windtech International is the worldwide information magazine for the wind energy industry. It provides the ideal forum for the promotion and explanation of new products, techniques and applications. This trusted and well-respected source of information is read regularly by an increasing readership

After eight months of testing and verification, FusionDrive, the gear and generator combination is now a validated drivetrain. The small and lightweight combo has proven to reach 96.6% efficiency.   T ...Windtech International - Windtech International is the worldwide information magazine for the wind energy industry. It provides the ideal forum for the promotion and explanation of new products, techniques and applications. This trusted and well-respected source of information is read regularly by an increasing readership

Moventas has announced the introduction of a Fixed-term CMaS Condition Management Agreement, in conjunction with the opening of the company's new North American CMaS Condition Management Center in Chi ...Windtech International - Windtech International is the worldwide information magazine for the wind energy industry. It provides the ideal forum for the promotion and explanation of new products, techniques and applications. This trusted and well-respected source of information is read regularly by an increasing readership

Moventas has opened a subsidiary in France. Moventas France will increase the company's presence and sales efforts in all of its business areas in the country. Moventas France will be responsible fo ...Windtech International - Windtech International is the worldwide information magazine for the wind energy industry. It provides the ideal forum for the promotion and explanation of new products, techniques and applications. This trusted and well-respected source of information is read regularly by an increasing readership