Published: 10 October 2018

10 October 2018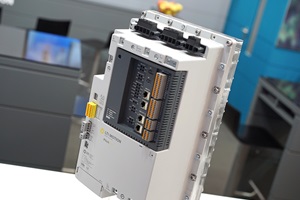 With their new wind energy competence centre in Unna (North Rhine-Westphalia) as well as manufacturing plants in Lahnau (Hesse) and Shanghai, LTI Motion is turning their wind energy business into a strategic pillar of growth. At the same time, the company is acquiring the intellectual property rights for the Pitchmaster series from former exclusive partner Moog, securing additional market shares and returning to marketing under their own trademark.
Until now, wind energy and the production of pitch drive solutions at the plant in Unna fell within the remit of LTI ReEnergy. Going forward, wind energy will be reincorporated into LTI Motion's core business, and manufacturing will move to the plants in Lahnau and Shanghai. In addition, the new wind energy competence centre in Unna will be spearheading the expansion of technology development and marketing activities.
Aside from these organisational changes, LTI Motion has also presented their new 5th-generation pitch drive system, PitchOne. The 5th generation of pitch servo drives is specially designed for the requirements of the 3 to 4MW class of wind turbines. The PitchOne has a compact design and passive cooling. In size 20, it delivers up to 45 kW of power for safe emergency blade travel.
The pitch system has fewer individual components and requires less wiring. With remote update capability via OPC-UA and its modular design, PitchOne also reduces O&M costs. Further cost savings at turbine level can be achieved through a series of newly implemented safety functions and the TÜV-certified emergency run with Performance Level E.
Thanks to its wide voltage tolerance of 140 %, the new PitchOne meets all known HVRT grid connection requirements. The internal DC/DC converter also provides a high DC link voltage during LVRT load conditions, allowing efficient dimensioning of the motor and backup energy storage capacity. The optional PLC programming via CODESYS offers flexibility and know-how protection for custom applications.
Related Articles
Moog has announced the launch of its new AC Moog wind turbine pitch system. Adopting a compact modular architecture, the new system has distinct advantages in safety, reliability and an overall reduct ...Windtech International - Windtech International is the worldwide information magazine for the wind energy industry. It provides the ideal forum for the promotion and explanation of new products, techniques and applications. This trusted and well-respected source of information is read regularly by an increasing readership

Moog has launched its latest AC Moog Wind Turbine Pitch System. Moog set four goals when developing the new pitch systems and products: 1) Improve turbine reliability 2) Reduce the overall cost to the ...Windtech International - Windtech International is the worldwide information magazine for the wind energy industry. It provides the ideal forum for the promotion and explanation of new products, techniques and applications. This trusted and well-respected source of information is read regularly by an increasing readership

Moog Industrial Group has announced that the company has been awarded a contract to supply a test system to Narec (National Renewable Energy Centre) to evaluate and test wind turbine blades at their n ...Windtech International - Windtech International is the worldwide information magazine for the wind energy industry. It provides the ideal forum for the promotion and explanation of new products, techniques and applications. This trusted and well-respected source of information is read regularly by an increasing readership

Moog Inc. has completed the integration of the Insensys acquisition and will now market all of its offerings under the Moog brand. Insensys individual pitch control and rotor blade monitoring system ...Windtech International - Windtech International is the worldwide information magazine for the wind energy industry. It provides the ideal forum for the promotion and explanation of new products, techniques and applications. This trusted and well-respected source of information is read regularly by an increasing readership

After taking a 40 per cent ownership stake in privately held LTi REEnergy GmbH last June, Moog Inc. has acquired the remaining 60 per cent of the Germany-based company. Moog is acquiring two manufac ...Windtech International - Windtech International is the worldwide information magazine for the wind energy industry. It provides the ideal forum for the promotion and explanation of new products, techniques and applications. This trusted and well-respected source of information is read regularly by an increasing readership

Insensys Ltd. has announced that Moog Inc has acquired 70% of its stock for £11 million in cash. As part of the transaction, Moog has an option to purchase the remaining 30% within one year. Insensy ...Windtech International - Windtech International is the worldwide information magazine for the wind energy industry. It provides the ideal forum for the promotion and explanation of new products, techniques and applications. This trusted and well-respected source of information is read regularly by an increasing readership

Moog Inc has announced today that it has acquired 40% ownership of privately held LTi REEnergy GmbH of Unna, Germany for € 18 million (approximately US$ 28 million) from available cash balances. The ...Windtech International - Windtech International is the worldwide information magazine for the wind energy industry. It provides the ideal forum for the promotion and explanation of new products, techniques and applications. This trusted and well-respected source of information is read regularly by an increasing readership