Published: 15 November 2019

15 November 2019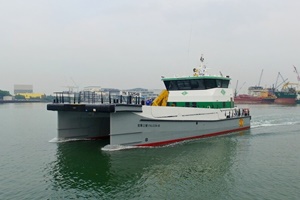 Hung Hua Construction of Taiwan has ordered a third Damen Fast Crew Supplier (FCS) to add to the two it ordered at the start of the year. This latest vessel will be a Damen FCS 2610.
The contract was signed by the two parties at the start of September and, with the vessel already on stock at Damen Shipyards Singapore, it will be delivered this month following finishing and some customisation. In early 2020, Hung Hua's FCS 2610 will be joined by two Damen FCS 2710 vessels. All the vessels will be operated by Dong Fang Offshore (DFO), a fully owned subsidiary of Hung Hua Construction, and they have signed a memorandum of understanding with the UK-based High Speed Transfers Ltd (HST) to cooperate on the provision of crew transfer vessel (CTV) services for the offshore wind market in Asia.