Published: 25 February 2020

25 February 2020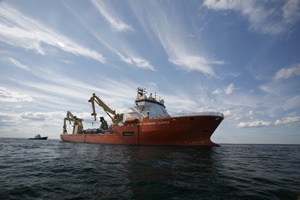 Global Offshore is adding the Normand Clipper, an ffshore installation and construction vessel, to their fleet. The vessel, on long-term charter from Solstad Offshore, will be operational within the first quarter of this year.
The Normand Clipper is currently being fitted with a 4,000 tonne cable carousel, two 15-tonne cable tensioners, a 25-tonne quadrant deployment frame and a fully integrated control system. The pen back deck will allow for full lengths of constructed CPS to be stored and installing up to three inter array cables per day. The ship will also be capable of working as a dedicated trenching vessel, utilising one of the company's two Q1400 trenching systems. The charter gives Global Offshore options for up to eight years.