Published: 02 April 2020

02 April 2020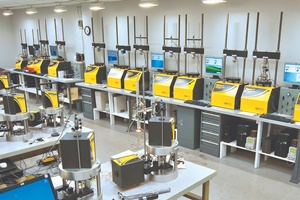 Fugro's Houston laboratory, one of the largest private geotechnical laboratories in the world, has recently doubled its advanced soil testing capacity for three-way bender element triaxial and cyclic simple shear testing to meet the growing demand from offshore wind projects in the US.
Three-way bender element testing is performed on triaxial tests and uses piezoelectric transducers to determine shear wave velocity in different directions, which is incorporated into the design of the offshore wind turbine foundations. Cyclic simple shear tests determine the dynamic soil properties used to analyse offshore wind turbines under wave and seismic loading conditions.

By the end of June, Fugro will have increased cyclic simple shear testing and triaxial testing capacity by 60 % through a total of 20 automated triaxial stations. These automated stations control the vertical and horizontal stresses that replicate the unique conditions of the soil surrounding wind farm turbine foundations to determine the soil's holding capacity.
Located on Fugro's Houston campus, the Houston laboratory currently occupies 1200 m2 and employs 30 laboratory technicians managing over 140 testing stations.