Published: 17 December 2020

17 December 2020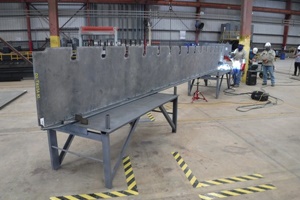 Dominion Energy has celebrated the keel laying of its Jones Act compliant offshore wind turbine installation vessel, currently being constructed by the marine shipbuilding firm Keppel AmFELS at its Brownsville, Texas shipyard.
Fabrications from the first steel, supplied domestically, were laid to form the first part of the keel – the bottom-most central steel structural beam on a vessel. The vessel's hull and infrastructure will utilise more than 14,000 tons of domestic steel, with nearly 10,000 tons sourced from Alabama and West Virginia suppliers. The vessel's hull has a length of 472 feet, a width of 184 feet and a depth of 38 feet. It has accommodations for up to 119 people. The vessel is designed to handle current turbine technologies as well as next generation turbine sizes of 12MW or larger and will also be capable of the installation of foundations for turbines and other heavy lifts. The overall project cost, inclusive of construction and commissioning and excluding financing costs, is estimated to be around $500 million.
Once complete, the vessel will be based out of Hampton Roads, Virginia with a U.S. crew and will be available for charter hire. The Jones Act is a federal law that regulates maritime commerce in the U.S. and requires goods shipped between U.S. ports to be transported on ships that are built, owned and operated by U.S. citizens or permanent residents.