Published: 28 April 2017

28 April 2017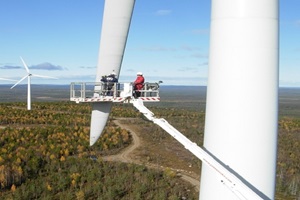 Bladefence has signed a contract to acquire Janneniska's skylift fleet in Europe ranging in reach from 90 meters to 104 meters. After this contract Bladefence and its Canadian subsidiary Bladefence Canada will operate a fleet of six 90-meter units, one 103-meter unit and one 104-meter unit.
Bladefence has used Janneniska's skylifts in its operations since 2011. This move streamlines Bladefence's operations and enables Bladefence to offer wider variety of services to its wind energy clients as well as clients in other field of industries requiring extreme height skylift access solutions.
Related Articles
Bladefence and Posion Energia Oy have signed a blade maintenance contract for the company's wind farm in Posio, Finland.   The wind farm will be commissioned in 2015, and the contract will cover the m ...Windtech International - Windtech International is the worldwide information magazine for the wind energy industry. It provides the ideal forum for the promotion and explanation of new products, techniques and applications. This trusted and well-respected source of information is read regularly by an increasing readership