Published: 14 June 2022

14 June 2022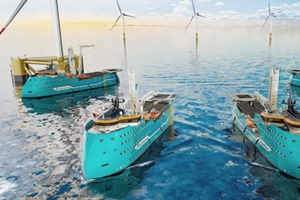 Acta Marine has signed a contract for the construction of two Methanol MDO/HVO powered DP2 Construction Service Operating Vessels (CSOVs) at Turkish shipyard Tersan with two optional vessels for delivery at a later stage. The first two vessels are scheduled for delivery Q2 and Q3 2024.
The vessels are primarily aimed at the offshore wind construction market and carry the new SX-216 TWIN-X Stern design from Ulstein Design & Solutions. The CSOV measures 89 metres in length, 19 metres in width and accommodates up to 135 people in 85 cabins. It will be equipped with an SMST provided Motion Compensated Gangway system, mounted on an integrated tower with height adjustment and a personnel/cargo lift. Additionally, the vessel features an SMST 3D-motion compensated crane with 6t lifting capacity. Cargo area is 500 square metres indoors, and 500 square metres outdoors. The vessel shall provide for walk-to-work transfer of personnel and cargo in significant wave-heights (Hs) up to 3.0 metres.