Published: 31 May 2023

31 May 2023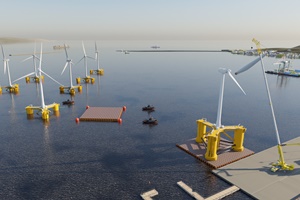 Crowley has announced a new investment in Tugdock, developers of the road-transportable floating dry dock known as the Tugdock Submersible Platform (TSP).
Crowley, a U.S.-based supply chain solutions company serving the offshore wind sector, and Tugdock will explore potential use of the platforms in locations, such as the U.S. West Coast, where depth and conventional dry docks may be ill-suited for the logistics required. TSPs were developed to be launched in ports that lack the sufficient water depth and assembly space required to build and loadout the massive floating substructures required to support offshore wind turbines. The technology allows floating dry docks to be delivered by road in modular form and assembled at the port to dimensions far wider than most of the world's existing dry docks. Once loaded, the platform is then towed to deeper water for launching and transporting the turbines.