Published: 10 June 2020

10 June 2020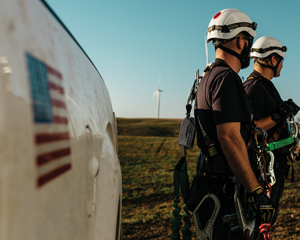 Wind power became America's largest provider of renewable energy in 2019 and was the top choice for new utility-scale power. Offshore wind activity picked up as states introduced new development targets. Construction and installations remained strong during the first quarter of 2020.
By Celeste Wanner, Research & Analytics Manager, American Wind Energy Association
The US wind industry experienced its third strongest year on record in 2019, as project developers added 9.1GW of new wind projects, representing nearly $ 14 billion of investment. Wind energy was America's top choice for new power, representing 39% of new utility-scale power additions. With these additions, operating wind power capacity in the USA surpassed 107GW, enough to power 32 million homes.
Wind energy is also now the largest renewable energy source in the country, supplying over 7% of the nation's electricity. In fact, two states generated more electricity from wind turbines than any other technology in 2019. After a strong decade of growth that saw America more than triple its wind power capacity, US wind energy now supports a record 120,000 American jobs and 530 domestic factories, and provides $ 1.6 billion a year in revenue for states and communities that host wind farms.
Demand for wind energy set a record in 2019, as utilities and corporate buyers announced over 8,700MW of new wind power purchase agreements (PPAs). Corporate buyers increasingly rely on wind energy to power their businesses. These companies accounted for 40% of the PPAs signed in 2019, with Walmart and AT&T the two top corporate wind buyers of the year. Fourteen newcomers representing diverse industries entered the wind market in 2019, including Baker Hughes, one of the world's largest oil field services providers; Estée Lauder, multinational cosmetics manufacturer; and McDonald's, the first fast food restaurant brand to buy wind power.
Offshore wind saw notable advances in 2019. States up and down the East Coast are aiming to develop over 28GW of offshore capacity by 2035, with 16GW of new targets announced in 2019 alone. To help meet these targets, states and utilities selected 4,404MW of offshore wind capacity through state-issued solicitations in 2019. The economic impact of offshore wind will be significant. The American Wind Energy Association's (AWEA's) March 2020 'U.S. Offshore Wind Power Economic Impact Assessment' estimates that developing 30,000MW of offshore wind along the East Coast could support up to 83,000 jobs and deliver $ 25 billion in annual economic output by 2030.
The first quarter of 2020 was also strong, with over 1,800MW of new wind power capacity installed, while the volume of projects under construction set a new record. US project developers built more than double the amount of wind capacity in the first three months of 2020 than in the first quarter of 2019. Developers also started construction on 4,124MW of wind power, bringing total construction activity to 24,690MW.
The full extent of American wind power's 2019 success is detailed in AWEA's 'Wind Powers America Annual Report 2019'.