Published: 21 January 2013

21 January 2013
New Opportunities and Challenges of the Wind Industry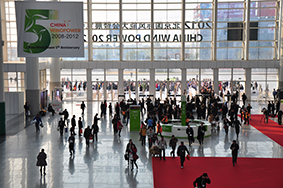 On 15–17 November 2012, the fifth China Wind Power Conference & Exhibition (CWP2012) was held in Beijing. The event was organised by the Global Wind Energy Council (GWEC) in cooperation with the China Wind Energy Association and the China Renewable Energy Industry Association. This year's theme was 'New Opportunities and Challenges of the Wind Industry: From Quantity to Quality'. Windtech International joined the event as a media partner. The conference programme offered a range of specialised sessions and side events, attended by 2,500 participants. Presentations and discussions covered, among other things, enhancing the reliability and quality of wind turbines and components, as well as improved resource assessment and forecasting. At the exhibition, nearly 400 companies showcased their products and services to around 27,000 visitors.
By Joost Siteur, Asia Representative, Windtech International
China Wind Power Market
During the opening ceremony, representatives of the Chinese government and industry organisations discussed the status and future of the Chinese wind market. After several years of rapid growth, the China wind power industry is facing a slowdown and a bumpy ride ahead. Problems previously covered up by the past high-speed growth have started to emerge, such as shrinking profit margins and the increasing difficulty in grid access. In addition, quality has become a bigger issue. The Chinese government has rolled out a series of policies concerning technology innovation, project approval and grid integration, aiming to lead the industry towards maturity. With these measures, accumulated installed capacity is expected to reach 100GW by 2015, with an annual power generation of 190TWh, accounting for 3% of total power generation.
Past and Future Technology Developments
The keynote speech on technology developments was delivered by Andrew Garrad, Chairman of GL Garrad Hassan. He started by emphasising that wind technology refers to more than just turbines, and followed this by talking about some highlights of the significant technology developments over the last 30 years. Turbines make use of ever more sophisticated control mechanisms at their nerve centres; in particular there is an increasing reliance on satellite measurements, which makes it possible to accurately forecast electricity generation up to 24 hours in advance. Mr Garrad believes there is still a lot of room for further turbine optimisation, such as lidar-assisted control that can provide the turbine with advance information about the approaching wind field. Regarding offshore wind, he asserted that the technology is still in an early stage of development, noting that so far offshore turbines are pretty much identical to onshore versions (white towers with three-blade rotors). Whereas onshore wind turbines have to be good neighbours in terms of aesthetics and noise levels, offshore turbines are constrained mainly by engineering and economics and, in the future, they can be expected to look very different from their onshore counterparts.
Global Wind Energy Outlook 2012
One day before the start of CWP2012, GWEC and Greenpeace International released the fourth edition of the Global Wind Energy Outlook at a media event in Beijing. At the conference, Steve Sawyer, GWEC Secretary General, presented the main findings of the report. The study shows that by 2020 wind power could supply up to 12% of global electricity, creating 1.4 million new jobs and reducing CO2 emissions by more than 1.5 billion tonnes per year. By 2030, wind power could provide more than 20% of global electricity supply. The report presents three different scenarios for the development of the sector and shows how crucial wind power is in fighting climate change, creating energy security and for economic development. Yet for wind power to reach its full potential stable, long-term energy policy is required. Mr Sawyer also discussed some of the main challenges facing the global wind industry, including the widespread perception that wind is much more expensive than conventional power generation even though new wind generation is already on a par with coal-based power on a dollar per megawatt-hour basis. Another widespread perception is that wind (and other renewables) rely heavily on subsidies, whereas in reality fossil fuels are receiving increasing amounts of subsidies and incentives, currently worldwide more than six times higher than incentives for renewables.
From the Exhibition Floor
Around 395 companies set up shop at the exhibition, ranging from well-known turbine manufacturers to small, specialised service companies. Nearly half of the exhibitors were Chinese companies, and another quarter consisted of China branches of overseas companies. The exhibition showed that Chinese companies cover a wide range of wind power technologies and services, including blades, gearboxes and maintenance services. Nevertheless, the traditional players from Europe had a strong presence, with distinctive Danish, German, Dutch and UK pavilions. While the exhibition was well attended, to some extent the mood on the exhibition floor reflected the current slowdown in the Chinese market, with attendees hoping for a pickup in the market two to three years from now.
China Wind Power 2013
The sixth China Wind Power Conference will be held on 16–18 October 2013 in Beijing. See you there!