Published: 11 July 2022

11 July 2022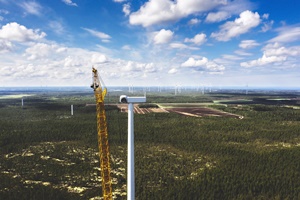 The VSB Group is to sell its Juurakko and Karahka wind farms in Northern Ostrobothnia to the Finnish utility company Helen. The Juurakko wind farm in Kalajoki and the Karahka wind farm in Oulainen, Finland, have been developed by VSB Uusiutuva Energia Suomi Oy, an affiliate of the international VSB Group.
The Juurakko wind farm, with seven wind turbines and a total capacity of 40 MW, is under construction and will be completed by the end of 2022. In Karahka, a total of 25 wind turbines with a total capacity of approximately 150 MW will be installed. Construction will begin in autumn 2022 and the project is scheduled to be commissioned by the end of 2024. In total the 32 turbines have a combined capacity of 190 MW. Helen is the majority shareholder in both wind farms and will acquire these wind assets together with the Ålandsbanken Wind Power Special Investment Fund.