Published: 06 July 2021

06 July 2021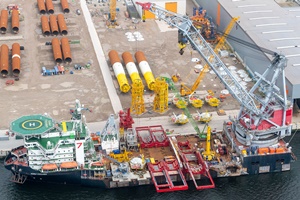 The construction of the 1.5GW Hollandse Kust Zuid offshore wind farm has started. The first vessel transporting foundations to the construction site departed July 5 2021.
Over the next two years, the offshore wind farm will be built off the Dutch coast. Vattenfall is building Hollandse Kust Zuid together with its recently announced partner BASF. The wind farm will be located approximately 18 kilometres off the coast of The Hague and Zandvoort, with the furthest turbines located 36 kilometres offshore. The 140 turbines have a combined installed capacity of 1.5GW.