Published: 19 December 2019

19 December 2019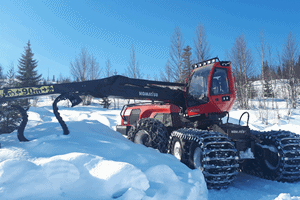 Construction of Vattenfall's onshore wind farm, Blakliden & Fäbodberget in northern Sweden, is now closing down for the winter season. When winter comes, bringing heavy snow and frost, the work is paused. Vattenfall has also agreed with affected Sami villages to break off work for the winter to make things easier for reindeer herding in the area. Construction will be resumed in the spring.
The wind farm consists of two adjoining areas, Blakliden in Åsele municipality, with 50 Vestas V136-4.2MW wind turbines, and Fäbodberget in Åsele and Lycksele municipalities, with 34 Vestas V136-4.2MW wind turbines. Vattenfall has together with Vindkraftcentrum launched a supplier database where local and regional business owners can register themselves and their companies to be matchable in connection with Vattenfall's procurements.
So far, around 450,000 tonnes of rock have been used for constructing roads and crane sites and for concrete casting. The 50 foundations cast at Blakliden have consumed around 1,000 tonnes of reinforcement, 490 tonnes of rock struts and 308 tonnes of adaptor plates. Around 70 km of roads have been completed and around 32 km of cabling have been laid at both sites combined. This accounts for 30% of the total length of cabling to be laid. Next year, the 34 foundations at Fäbodberget will be cast and anchored, 55 km of cabling will be laid at Blakliden and part of the anchoring work will be completed for the foundations already cast. In addition to this, construction of the transformer stations will be completed and overhead power lines will reach the site, and the following year, 2021, will see the start of the installation of the turbines.