Published: 10 November 2021

10 November 2021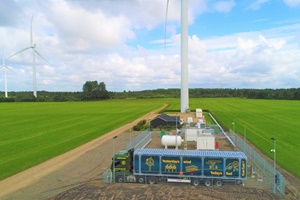 Earlier this summer, the Danish authorities granted Siemens Gamesa's
Brande Hydrogen
test site status as official regulatory test zone, allowing activities here to operate outside the existing electricity regulations and enabling research into how to develop an island-mode capable system of offshore hydrogen production at turbine level.
The pilot project celebrates now a new milestone, producing its first green hydrogen as part of the testing and commissioning phase. Project partner Everfuel is distributing this to hydrogen stations in Denmark, enabling a growing number of zero emission vehicles, such as fuel cell taxis, to operate on a 100% green fuel supply.
The Brande Hydrogen setup couples an existing onshore Siemens Gamesa SWT 3.0-113 DD wind turbine with an electrolyzer stack from electrolysis partner Green Hydrogen Systems. Siemens Gamesa is also using the Brande Hydrogen site to explore whether integrating new battery technology as an upgrade to the co-located turbine and electrolyzer can contribute to grid stability and help address issues around the variability of wind. Batteries can store energy in a way that allows electrolyzers to run for longer and produce more green hydrogen. If there is a grid connection, the batteries can distribute the renewable energy to the grid rather than the electrolyzer when conditions allow.