Published: 19 August 2019

19 August 2019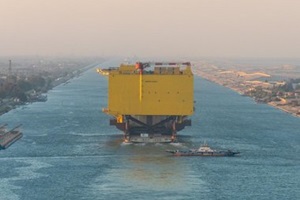 TenneT has met and even exceeded the German government's roll-out targets for North Sea wind power. The transmission readiness of BorWin3, TenneT's twelfth offshore grid connection project, means that a further 900MW of transmission capacity will be available to feed the wind power produced at sea into the onshore extra-high voltage grid. In total, the offshore transmission capacity in the North Sea alone will therefore amount to 7.132GW this year.
The federal government's target for the North Sea and Baltic Sea is 6.5GW by 2020. BorWin3 is the third project to be implemented by TenneT off the coast of Borkum using direct current technology, alongside the grid connection projects BorWin1 and BorWin2. At the Emden/East site, TenneT has built a converter station with a substation to feed the energy generated at sea into the onshore extra-high voltage grid. In total, a distance of 160 kilometres has to be bridged: the wind power is first transported to Hamswehrum via a 130-kilometre-long subsea cable running west of Borkum and from there to Emden/East via a 30 kilometre-long underground cable.