Published: 21 April 2020

21 April 2020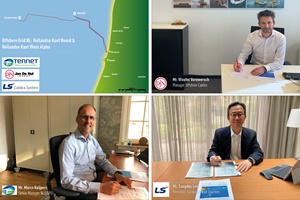 TenneT has awarded the consortium Jan De Nul Group and LS Cable & System the contracts for the supply and installation of high voltage cables for the grid connection of the Dutch offshore wind farms Hollandse Kust Noord and West Alpha.
Jan De Nul Group will take care of the transportation, laying and protection of the cables that will be designed and manufactured by LS Cable & System. Offshore execution will take place in 2022-23. The Hollandse Kust Noord and Hollandse Kust West Alpha export cable systems will consist of two 220kV AC cable systems each. These four cable systems will cover a total length of 210 km, connecting the wind farms to the onshore Dutch power grid near Beverwijk, just north of the port of IJmuiden. When operational, these wind farms will generate up to 1,400MW.