Published: 20 April 2021

20 April 2021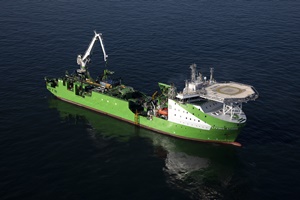 Transmission system operator Réseau de Transport d'Électricité (RTE) has awarded DEME's French subsidiary SDI an EPCI contract for the export cable that will connect the Leucate Floating Offshore Wind Farm to the power grid, in a consortium with JDR Cables.
The 30MW wind farm is currently being developed by Les Eoliennes Flottantes du Golfe du Lion (EFGL), a consortium comprising Engie, EDP Renewables, and Caisse des Dépôts. Located 16 km off the coast of the Leucate-Le Barcarès area, the demonstration floating wind farm will feature three V164-10.0 MW wind turbines, in water depths of 65 to 80 metres. The export cable will include a submarine cable and an onshore cable section, connecting into the onshore substation near Le Barcarès. JDR will design and manufacture the dynamic and static cables to connect the floating turbines to the shore, where they will connect to a grid at Saint-Laurent de la Salanque. SDI will undertake the overall delivery and installation of the cables provided by JDR.