Published: 14 April 2022

14 April 2022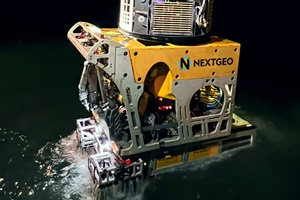 NextGeo has been carrying out various works as part of its contract with TenneT TSO for UXO survey services in support of the vast offshore wind energy programme promoted by the Dutch Government in the Dutch sector of the North Sea.
Following the completion of a route survey campaign performed on Hollandse Kust West Beta (HKWb) last year, NextGeo has selected PanGeo Subsea (a Kraken Robotics Company) to provide its SBI to conduct a detailed survey around the Baloeran wreck close to cable routes to provide a clearer picture of subsea conditions underneath the seabed level. Applying beam forming synthetic aperture sonar arrays that provide a real-time 3D view of the sub-seabed, PanGeo's SBI gathers accurate and usable data. The SBI has been installed on Ievoli Ivory's WROV to ensure a maximised coverage of the targeted area characterised by strong currents, shallow water depth and very low visibility.