Published: 21 October 2021

21 October 2021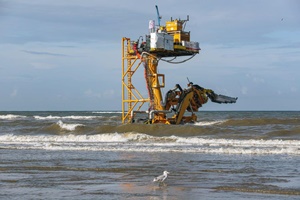 For the offshore wind farm Luchterduinen in The Netherlands, Jan De Nul was requested by Eneco to rebury a section of an existing export cable. Due to morphological changes the export cable burial was over the last few years decreasing in depth within the nearshore section. To guarantee the cable will at all times remain sufficiently buried and thus protected, a reburial campaign was requested by Eneco.
To this purpose, Jan De Nul modified its in-house designed and fabricated intertidal trencher Sunfish and reburied the nearshore section of the cable to a minimum depth of 2.5 metres below the seabed. The Sunfish lowered the nearshore part of the cable working up to 1 kilometre offshore and a water depth of 8.5 metres. The Sunfish was modified to a suitable post-lay jet-trenching vehicle with 2 water pumps delivering each 1250 m³/hr jet water and 3.5 m long jet swords. To accurately locate the cable, the Sunfish was further equipped with 2 sets of cable tracker sensors of SMD's tracking system 'Artemis' using the live tone of the cable. As a result, Eneco did not have to switch off the wind farm during the entire campaign.
The Eneco Luchterduinen Wind Farm is located in the Dutch sector of the North Sea, approximately 23 kilometres off the coast between Noordwijk and Zandvoort. 43 Vestas V112 offshore wind turbines produce a combined capacity of 129 MW. From the Offshore High Voltage Station (OHVS) one 150 kV export cable of 25 kilometres directs the current to the shore.