Published: 17 November 2020

17 November 2020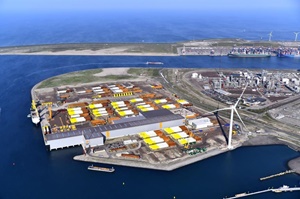 Dogger Bank Wind Farm, a joint venture between SSE Renewables and Equinor, has awarded a Sif-Smulders consortium the contract for the fabrication and supply of all foundations for Dogger Bank A & B. The contract is subject to financial close which is foreseen late 2020.
The Dogger Bank Wind Farm is being developed in three phases – Dogger Bank A, Dogger Bank B and Dogger Bank C – located more than 130km from the Yorkshire coast. Each phase will have an installed generation capacity of 1.2GW and combined they will have an installed capacity of up to 3.6GW.
Dogger Bank A and B will require 190 foundations. Water depths at Dogger Bank vary from 18 to 63 meters. Each foundation comprises a monopile and a transition piece. Sif is responsible for the fabrication and supply of the monopiles and primary steel for the transition pieces, and for the marshalling of all foundation components at its Maasvlakte 2 Rotterdam terminal (the Netherlands). Smulders will manufacture the secondary steel and assemble, coat and test the fully equipped transition pieces. Production in the Smulders' facilities in Poland and Belgium will begin in May 2021. The assembly, which will be done at the Hoboken facility (Belgium), is scheduled to start in September 2021 and will take approximately 10 months.